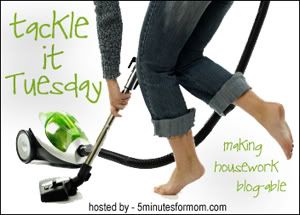 Susan and Janice over at
5 Minutes for Mom
created "Tackle it Tuesday" as a way to
blog about getting back in control of our homes. She wanted to celebrate together the little steps of victory as other Tackle It Tuesday participants tackle each project, one by one.
This week my project - between potty breaks every 15 minutes - is to get my bathrooms cleaned, re-organized, and the glass shower doors removed from the kids' bathroom.
They are my least favorite rooms of my house. When we bought our house I was excited of the idea of having THREE bathrooms. Logic told me, chances were no one would have to 'hold it' when they needed to potty. And with several small children, this was a good thing.
The amount of time I've spent cleaning said bathrooms over the past 2.5 years, on the other hand, has not been such a good thing.
But nevertheless, it has to be done.
Well, all of it except the removing of the shower doors, and quite frankly that is just because I am sick of cleaning the glass and corresponding caulking.
The lady we bought the house off of had three daughters...so do we, but we also have a son...so the lovely pale purple walls with fairy princess and butterfly decor wasn't really a suitable gender-neutral bathroom.
So, the kids picked out an 'inspiration' piece....
AND... a corresponding very bright wall color, and this is what their bathroom became.
They colored these pictures we printed out.
It's been a very age-appropriate, gender neutral bathroom for my young children for the past 2 years, and while I'm not sure the underwater decor will be departing...the glass shower door is sure to have met it's doom.
It will soon be loaded in the back of my husband's Chevy pick-up truck to meet it's timely demise at the bottom of Blackfoot Landfill, along with the dresser from Kinsey's room that the kids' thought would look cool if they graffiti'd.
And boy, were they ever proud of their coloring skills!
But we'll save that for another post.
Have a Happy Tackle it Tuesday y'all!
oh and p.s...Happy Birthday to my lovely, lovely cousin Jennifer. You are a beautiful woman of God.