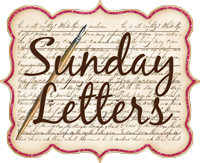 Dear Big A,
I've been emotional this week while thinking about writing this post. Almost four years ago you asked me a difficult question. It was just a simple question to you but it was one that made me question where I stood as your step-mom, and the lengths I'd go through for you to make sure you ALWAYS know you are loved the same as your sisters. When I married your daddy I didn't just promise to love him forever.... I promised to love and honor my commitment as a parent figure in your life too. I hope you always know that your opinion of my involvement in your life, and your expectations of me matter more to me than anyone else's. If you ask me to be a part of your school day because that's something I do for your sisters, I will be. I was very lucky to have Grandma Richardson to show me that step-parents can love unconditionally. My hope is that if you ever become a step-parent that you love those kids with everything you've got and always, ALWAYS treat them like the gifts they are. I love you sweet boy and I thank God every day that he brought you into my life five years ago.
Dear Kinsey,
You've had to grow up much faster than you should have because of me being sick last year, and I'm so incredibly proud of you for how beautifully you've handled it all. You're such a big help to me. And your teachers keep telling me how big of a help you are to them. In fact, I got a phone call from your teacher last week and he told me he wishes all of his students were just like you! I couldn't be more proud! I love you so much.
Dear Ava,
I love all the time I've gotten to spend with you at school this year. It brings me such joy to see you excelling and bringing home so many Whiskers awards for your exceptional behavior. Your laugh lights up my world. It's so infectious. I hope you never lose your ability to see this life through such pure lenses. I love you sweet cheeks!
Dear Breanna,
It's been a long week for the two of us. I hate when any of my babies are sick but it's especially hard on me when it's you. You've been through so much in your short life. You're one of the bravest people I've ever known, and yet I know you don't understand that because it just comes naturally to you. It's the only way of life that you have ever known. You give me strength that I didn't know I had until I had you. I'm so glad you're finally feeling better. I love you baby girl! Love, Mommy